21 Sep

A detailed guide on Digital Marketing
A detailed guide on Digital Marketing
‍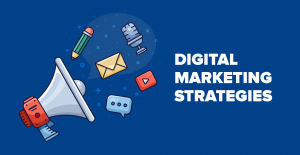 Digital marketing has come a long way since the days of banner ads and pop-up ads. Today, marketers can leverage a variety of digital marketing techniques to target their audience more precisely and create interactive experiences that drive engagement. The digital marketing space is an ever-changing one, so keeping up with all the latest trends is challenging. With that in mind, we've put together this brief overview of the various subcategories under the umbrella of digital marketing — also known as digital marketing strategy — to help you understand how they work together to drive business growth.
Digital Marketing Strategy Basics
The term "digital marketing" refers to the use of marketing techniques that employ digital technologies, such as online marketing, mobile marketing, social media marketing, and others. A digital marketing strategy is the overall plan that a business or organization uses to create a marketing strategy to promote their products or services using digital channels. The core strategy for digital marketing is to "reach out to a targeted audience at the right time, with the right message and via the right channel with the goal of getting them to take action." Typically, "action" means either buying a product or service, signing up for a program or service, attending a sales event, or some other type of conversion. As with all marketing, the target market for digital marketing is defined in terms of the people, the problem they have, the solution the company offers, and the path the customer takes to make the purchase decision. Then, the company can deliver a marketing message via several channels, such as email, social media, search engine marketing, blogs, and other online and mobile channels. The messages are designed to appeal to the customers' interests, needs, and desires in order to prompt action.
Digital Advertising
Digital advertising is one of the most effective marketing techniques in the modern world of business. It can be used to promote anything from a product or service to a cause or charitable organization. It's also one of the most cost-effective forms of marketing available. The primary goal of digital advertising is to get a consumer to take an action, such as making a purchase, registering for a webinar, watching a video, downloading a whitepaper, or other types of conversions. The action could also be something along the lines of increasing brand awareness or promoting a cause. There are many different types of digital advertising, such as search engine marketing, social media marketing, and affiliate marketing, each capable of delivering a wide range of results, depending on the type of business and the industry.
Digital Marketing Research
The online world is a goldmine of data and information, which marketers can use to their advantage. While there are some techniques, such as surveys and polls that can be completed on a company's website, many others require access to third-party data. Depending on the type of information you're looking for (demographic, psychological, etc.), there are a number of research tools you can use, including: – Focus Groups – This type of research typically involves a moderator who guides the discussion and a group of people who haven't been exposed to the product or service. The moderator leads the group through a discussion about the product or service, asks questions, and takes notes as the group discusses the merits and drawbacks of the product or service. – Surveys – These are one-on-one, online interactions with customers who have been identified as potential leads or prospective customers. Surveys can be used to gather information about how customers feel about your brand, products, or services. They can also be used to discover what customers' needs and desires are, factors that might influence their purchasing decisions, and what they think about your company's hiring practices, leadership team, and other aspects of the business. – Focus Groups and Surveys – A hybrid of the two methods, this type of research combines the benefits of both.
Digital Marketing Analytics
Online marketing is an ever-evolving landscape, keeping up with all the latest marketing trends and best practices can be a challenge for even seasoned marketers. That's why it's important to measure and analyze the results of each marketing initiative. This helps you to determine which initiatives are working and which are not so you can adjust your digital marketing strategy accordingly. Depending on your goals and inbound marketing focus, you should consider measuring and analyzing data such as: – Website traffic and visitor behaviour – This data helps you identify the number of people visiting your website, how long they stay, what pages they visit, how they found your site, how they navigate your site, and other important metrics. – Traffic sources – This data reveals how people found your site—whether they were directed there by a search engine or they clicked on a link from another site. It also helps you track how customers are finding your site, so you can make adjustments as needed.
– Sales and conversion data – This data tells you how many people are converting on the site. It also tells you how many people are visiting your site and what they do when they get there.
Digital Marketing Co-ordination
The goal of digital marketing is to reach customers at the right time with the right message via the right channel. With so many digital channels available, it can be challenging to get everything in sync. However, if you keep the most important elements of the marketing mix in mind, you'll be well on your way to a successful online marketing strategy. – Timing – You don't want to make a marketing push when your customers aren't paying attention. It's important to understand your customers' buying cycle so you know when they're open to marketing messages. – Message – When it comes to branding, your message should be consistent across all marketing channels. – Channel – Decide which channels are best for your marketing strategy. You can't be everywhere, so it's important to select the channels that will reach your target audience.
Digital Marketing Basics Conclusion
Marketers have more tools and resources than ever before to help them reach their target audience and achieve business goals, thanks to the rise of digital marketing. The digital landscape is ever-changing, though, so marketers need to stay up-to-date on trends and new technologies to ensure their strategies are effective. If you want to grow your brand, you need to understand the basics of digital marketing. From creating an effective marketing strategy to measuring the results of your efforts, digital marketing can help you reach new customers and increase your bottom line.